Adelaide Hall Of Fame For Brothers Rick & John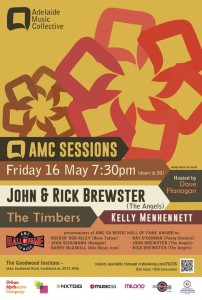 On Friday 16th May, in Adelaide, brothers Rick & John Brewster will be performing at the AMC Sessions on a bill hosted by Dave Flanagan and supported by music artists The Timbers and Kelly Menhennet.
As well as performing live at this very special event, the evening will see Rick & John Brewster inducted into the AMC SA Music Hall Of Fame alongside Rob Riley, Ray O'Connor, John Schumann and Barry McAskill.
The show will be held inside the old Goodwood Institute building which during the 1960's played host to live entertainment from Mod bands, Beat Music and Rock 'n' Roll acts at a time when the venue was known as The Oxford Club.
Also, generously supplied by radio disc jockey David Day, is a unique display of music memorabilia drawn from the last 42 years.
The public are welcome to attend this special evening. Ticketing information can be found on the Gigs Page of our site but due to the anticipated demand it'll surely be a case of "first in – first served".