Brothers Angels & Demons – The Good Times & The Bad
Special Shows – May 2016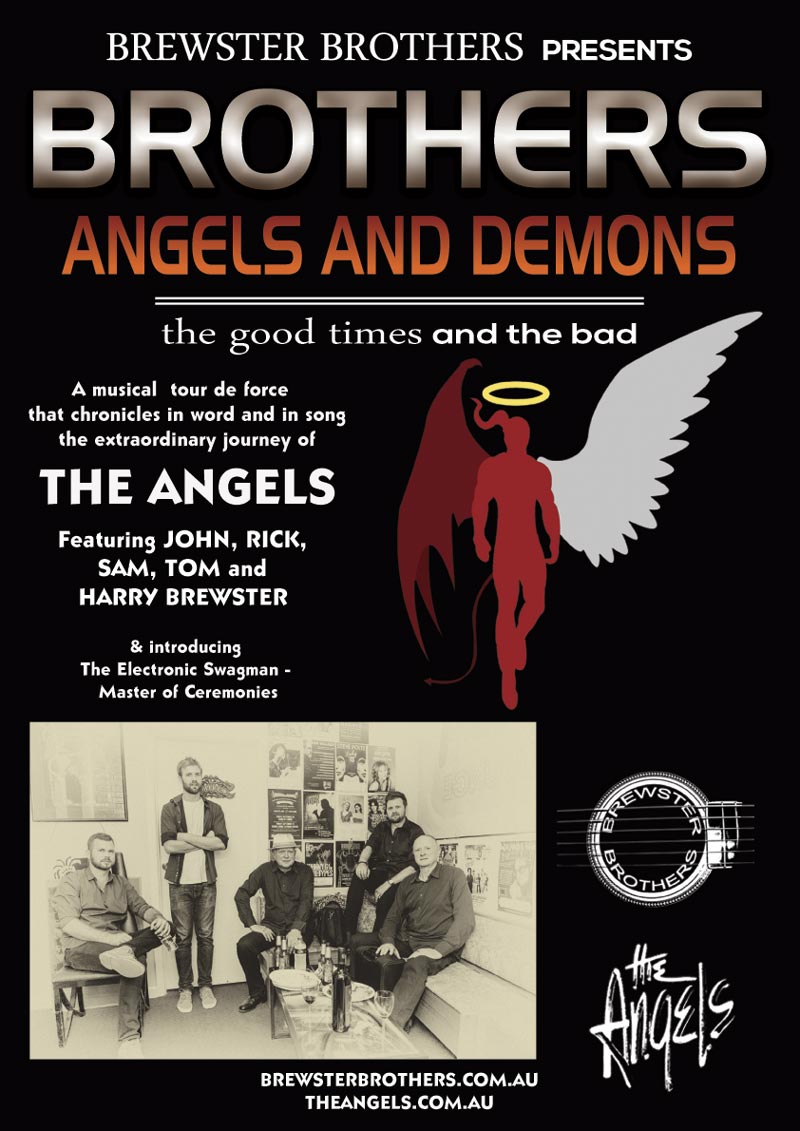 There are few stories in the Australian music industry more interesting and diverse than that of Rick and John Brewster, the founding members behind legendary rock band The Angels.
In 2014, these musicians, who are aptly named Australia's premier guitarists, decided to do something different. The ensuing tour – Brothers Angels and Demons – was unlike anything they'd ever done before. It was a warts and all account of the entirety of their careers to date, where they shared with audiences  the good times, the bad times and everything in between.
Now, the Brewster Brothers are back for a limited run of their acclaimed shows which will see them tour Adelaide, Melbourne, Sydney and Newcastle.
Brothers Angels and Demons initially earned rave reviews as part of the Adelaide Cabaret Festival. The tour for these shows is very unique in that the performances feature two generations of the Brewster family with Sam Brewster [Bass], Tom Brewster [Drums] and Harry Brewster [Guitar] joining their father John and their uncle Rick to complete a musical bond found only amongst those who are lucky enough to share a blood connection.

Audiences will join the Brewster Brothers for a flashback journey through their four musical decades together. They'll strap on the washboard and play their kazoos to reveal their musical partnership beginnings with The Moonshine Jug & String Band, perform some of their  most famous hit songs from The Angels and will bring you safely back to the present with songs from the Brewster Brothers.
Featuring Master Of Ceremonies
- The Electronic Swagman -
The 2016 tour will also feature The Electronic Swagman (aka Raymond Hawkins) as the master of  ceremonies for the shows. Raymond has a long association with the Brewster Brothers and The Angels, having toured with them internationally from 1978 for many years as their lighting operator. His inclusion in the show adds another unforgettable element in leaving 'no stone unturned' in the Brewster's story.
If You Love The Angels You Will Love These Shows
Click Here To Visit The Gigs Page For Dates