A Great Night And A Great Dining Experience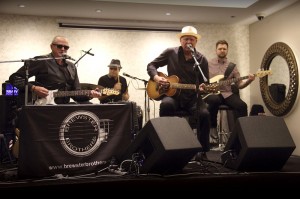 Last Friday night was a success as "Gemelle Ristorante Italiano" in Liverpool played host to their very first ever evening of live music.
Much like the songs played by the Brewster Brothers, the cuisine at this new location represents a journey through quality and variety across to the top end of town.
Enjoyed by yet another full house the lively performance was a big hit with everyone in the room!
Ranging from John's solo delivery of a classic early Bob Dylan number right through to some of the pair's own very blues based originals the evening saw even some of the finest diners slip off their shoes and join the dancing throng at the front of the stage.
The night was living proof that great hospitality, quality music and fine food will always keep good company.